The Fountain of Praise appreciates the sacrifice of service from our U.S. Veterans. You have served this nation and now we want to give back to you. We recognize that veterans are under-served and not all are receiving access to benefits and services they are rightfully entitled to. We are developing a ministry specifically designed to meet their needs. This ministry will focus on spiritual education & support, spiritual advising, counseling referrals, resources on veteran's health and benefits, financial services, career services and job training.
We will keep you informed as this ministry develops.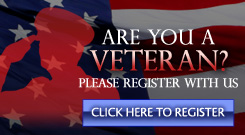 We are collecting information on our TFOP members who are veterans and served this country. We appreciate the sacrifice of service and it is our goal to build a ministry to meet the needs of our veterans.
This confidential information will not be shared, but only used to communicate information to our veterans on the ministry, events and resources specific to veterans.
God Bless and THANK YOU for your service to this country!
Be careful for nothing; but in every thing, by prayer and supplication with thanksgiving let your requests be made known to God. —Philippians 4:6 (KJV)
If you would like to submit a confidential prayer request Click Here