The Fountain of Praise was recently recognized as one of the 100 fastest growing churches in the United States with over 27,000 members.
For over 30 years, The Fountain of Praise has experienced tremendous growth under the leadership of Dr. Remus E. Wright, Senior Pastor, and Dr. Mia K. Wright, Co-Pastor.
Dr. Mia K. Wright, Co-Pastor
---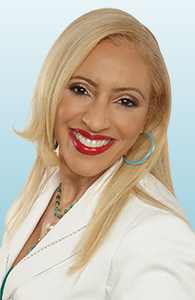 Dr. Mia K. Wright is inspiring people around the globe to do the unthinkable and to pursue their passion for living.
Releasing in March 2018, Mia's book, UNTHINKABLE, will challenge readers to elevate their life's platform by demonstrating how to overcome boundaries and self-imposed limits. Mia is a powerful speaker, who encourages others with uplifting messages, relevant life stories and life skills that apply in both the faith based and industry sectors. Her messages are inspiring as well as encouraging. With a call to action, she elevates others to purposeful thinking with a higher mindset. People respond with testimonials of how Mia encouraged them to begin a new business, to complete school, or to be a better person. She is a sought after motivational speaker, women's conference presenter, and corporate work - faith - life balance coach. As a speaker, Mia has shared transformational messages in churches, town halls, convention centers, hotels, corporate venues, schools, mud huts, and prisons around the world.
Mia is the Co-Pastor and Executive Director of Ministry at The Fountain of Praise. Alongside her husband, Pastor Remus E. Wright, the couple leads a congregation of more than 20,000 members, making theirs one of the largest churches in the USA. She leads the Volunteers Ministries for The Fountain of Praise.
In addition to her church leadership and professional speaking platforms, Mia's passion is fulfilled as the Executive Director of the Metamorphosis, Inc., a women's empowerment organization. Metamorphosis encompasses the life changing Metamorphosis Women's Conference based in Houston, a mentoring program for young ladies, a compassion outreach, empowerment seminars, and international programs. Through her work, thousands have embraced life long transformation to a place of fulfillment and purpose.
Mia is a noted community influencer and "woman to watch" in Texas. Her efforts in the community have been widely recognized, earning her a list of accolades from distinguished organizations. Of note, she was named one of the University of Houston's Conversationalists, Houston's Top 30 Women, "Most Inspirational Person of the Year" nominee by StreamingFaith.com; and was a "featured citizen" in the 2010 Who's Who in Black Houston edition.
Mia earned her Bachelor's degree at The University of Texas at Austin in Biology and Chemistry. Following college, she was highly successful as both a sales professional and training specialist with Merck Pharmaceuticals and Astra Zeneca Pharmaceuticals. In 2005, Mia graduated with honors with a Master of Divinity degree from Southwestern Baptist Theological Seminary. She participated in a Study Abroad Program on the History and Relevance of the First Century Church in Tunisia, North Africa. She is currently pursing a doctorate in Organizational Change and Leadership at The University of Southern California.
Mia is a member of Alpha Kappa Alpha Sorority, Inc. and The Links, Inc. Beyond her impressive academic background and professional accomplishments; her greatest achievements are her family, notably, her three-decade marriage to her husband and their three sons, who are fulfilling their life's purposes as a minister, an attorney and a medical doctor.